BlackJack
A BlackJack Card Game for the Pocket PC
Overview
Want some practice playing "21" before heading to the casinos? Then Blackjack by ScaryBear Software can help you get in the groove before hitting the tables.
Our Blackjack game is the standard "21" card game played in many gambling casinos, where you can bet, double down, and get a 3-to-2 return on a winning Blackjack hand.
Download a trial copy and see how much practice you really need!
Version 1.4
Major Features
Smooth, Colorful, and fast graphics
4, 6, or 8 card decks
Can hit or stand
Can split cards, double down, buy insurance, or surrender
Compatible with the Pocket PC 2002, 2003, and Windows Mobile 5 and 6 OS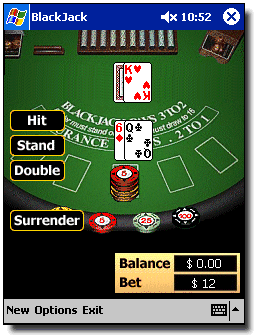 System Requirements
This application will install and run on the Microsoft 2002/2003 OS Pocket PCs and the Windows Mobile 5 and 6 OS devices. Requires a device that uses a stylus and touchscreen for input.
Note: This application will not run on the Palm OS, Nokia OS, or Blackberry OS devices.