Remove PieSearch virus in Chrome, Firefox and IE
If the homepage and default search in web browsers suddenly become configured to return PieSearch.com, this points to a malware problem that must be fixed.
PieSearch.com, when looked at superficially, seems to be an information lookup service that doesn't differ a lot from its numerous legitimate counterparts. In fact, there is no harmful code surreptitiously embedded into the site, nor will users get infected through drive-by downloads, exploits or other types of stealthy malicious stuff running behind the scenes. This web page's purity from a security standpoint, however, is irrevocably stained by the large-scale traffic interception activity that it constitutes. If it weren't for an adware application that messes up the Internet preferences on target computers, the amount of PieSearch user base would approach zero, with the only few "visitors" being its makers and ubiquitous crawler bots.
It's clear that the niche of web search is highly competitive and populated by big data companies that invest billions annually to keep the existing customers and attract new ones. PieSearch is definitely not one of those, but auto-generated graphs of the traffic it's acquiring have been showing an upward curve over the course of the past few weeks.
Obviously, the authors of PieSearch are skipping the critical marketing part of building a user community – they prefer a malware-powered methodology instead. The application in charge of such a hoax is a browser extension programmed with total disregard for the user's opinion. This self-proclaimed helper object runs smoothly on all widespread web browsers, and it gets a flagrant set of privileges on the box. As soon as this add-on enters its active phase in a system, it overrules everything custom in browsers, including the admin-defined start page, new tab site, and the preferred search provider. The adware is known to also insert the unwanted URL at the end of the target string of browser shortcut settings. This way, even if the victim erases PieSearch.com from the homepage field and inputs the correct value, the hijack will persist regardless.
Most people who have confronted this problem did not install anything similar to PieSearch, at least they don't remember ever doing so. The reason why the attack succeeds is because the virus complements freeware setup workflows. A variety of open source applets are installed on a bundling basis, where some unwanted objects may be listed as extra, or special, offers included in the express setup. The criminals are perfectly aware that people tend to just click through the steps in order to get the job done faster, so the trap works efficiently enough for numerous contaminations to take place within a short time span. If you have fallen victim to PieSearch.com hijack, use this post to get rid of the underlying adware and get browser preferences back to their normal state.
PieSearch removal with automatic cleanup tool
An optimal workflow for eliminating the PieSearch adware is to leverage a security application which will identify all potentially malicious software on your computer and handle it the right way. This approach ensures thoroughness of the removal and system remediation, and allows avoiding unintended damage that might occur as a result of manual malware deletion.
1. Download and install PieSearch removal software. Launch it and click the Start New Scan button. Wait for the application to check your computer for threats
[button size="large" type="success" value="Download PieSearch.com remover" href="http://scarybear.paretologic.revenuewire.net/pcha/download/?piesearch"]
2. When the app is done scanning your system, it will come up with an extensive list of detected objects. Click the Fix Threats option to have the utility completely remove this adware and affiliated infections found on your PC.
Uninstall troublemaking software through Control Panel
– Go to Start menu and select Control Panel on the list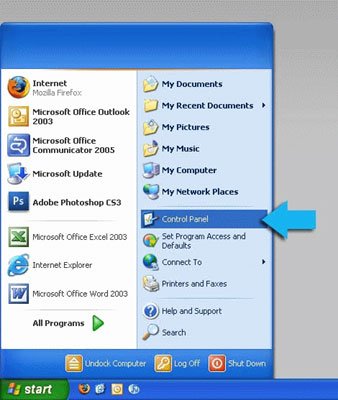 – Click on the Uninstall a program (Add or Remove Programs) button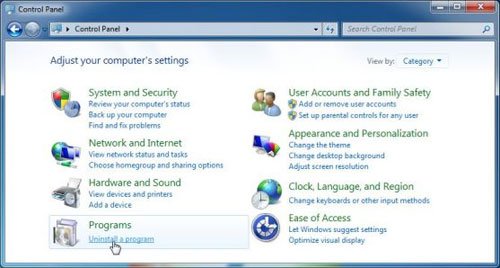 – Take a good look at the software list displayed. Search for PieSearch or other questionable items that look like they are ecommerce-related. When found, the culprit should be uninstalled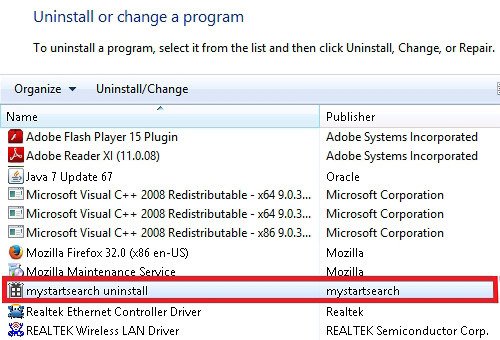 – Be advised PieSearch should but may not necessarily be listed anywhere on Control Panel therefore it may be problematic to figure out which particular program is associated with the virus in your case. If you are unsure, stick to the automatic cleanup advice or try the browser reset option described below.
 
Get rid of PieSearch.com adware by resetting the affected browser
FYI: This procedure will lead to the loss of custom browser settings, including bookmarks, cookies, passwords saved, and all browsing history. Also, some components of the virus may be beyond the browsers proper. Please keep this in mind when making a decision to proceed.
Reset Internet Explorer to its defaults
– Go to Tools –> Internet Options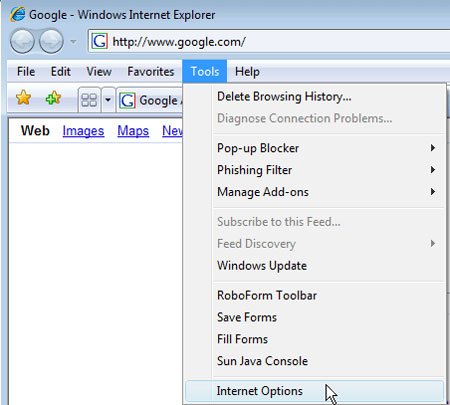 – Select the Advanced tab as shown below and click the Reset button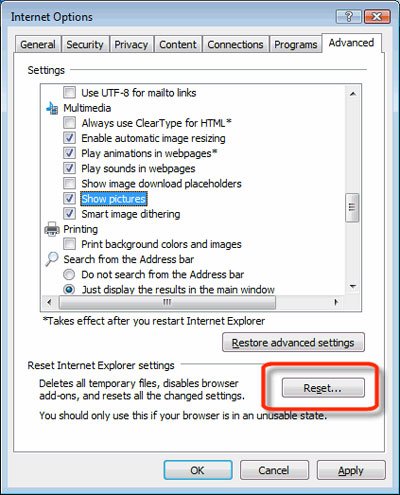 – Read the warning about the effects of resetting IE. If you are sure, proceed by checking the Delete personal settings option and clicking Reset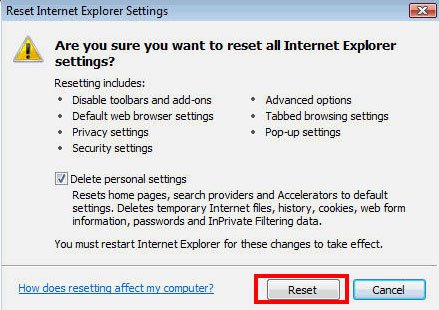 Reset Mozilla Firefox
– Go to Help –> Troubleshooting Information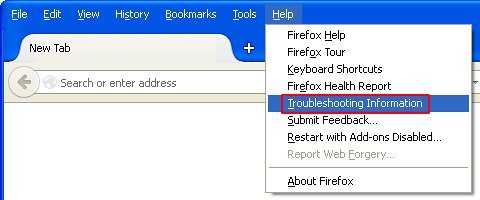 – Firefox will come up with the Troubleshooting Information screen. Click the Refresh Firefox button to complete the process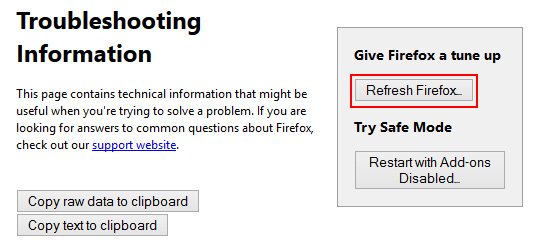 Reset Google Chrome
– Go to the Chrome Menu icon and pick Settings on the list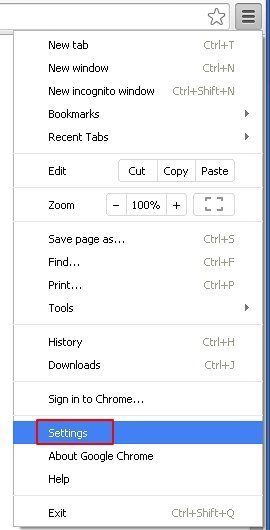 – Click on the Show advanced settings button

– Click on the button reading Reset browser settings


– On the notification box that pops up, review the consequences of Chrome reset and click Reset if it's ok with you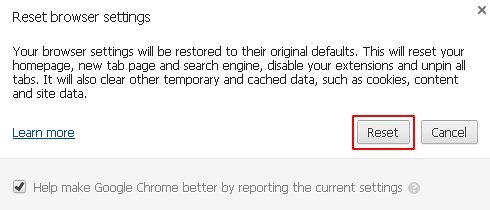 Double-checking never hurts
To make sure the PieSearch virus has been removed, consider running an additional security scan as a completion of the cleanup procedure.
[button size="large" type="success" value="Download and install PieSearch removal software" href="http://scarybear.paretologic.revenuewire.net/pcha/download/?piesearch"]