FlashIt
Flash Card Program for the Pocket PC
Overview
Are you studying for a test and need practice answering questions? Trying to learn vocabulary words, or other facts and/or trivia? Then you need FlashIt for your Pocket PC!
Not only does FlashIt display text questions, you can also display a small graphic image as part of your question. When you're ready to view the answer, just tap the answer box for the response.
Major Features
Easy to use
Input files are simple to create
Can display small bitmap images as part of the question
An excellent tool for memorizing facts, anatomy, definitions, etc.
Ability to show answer first, then question
Can specify random display of questions and answers
Compatible with the Pocket PC 2002, 2003, and Windows Mobile 5 and 6 OS
Version 1.8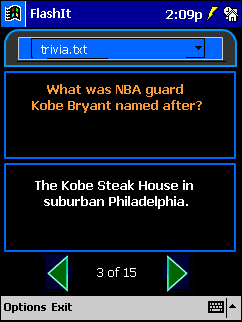 System Requirements
This application will install and run on the Microsoft 2002/2003 OS Pocket PCs and the Windows Mobile 5 and 6 OS devices. Requires a device that uses a stylus and touchscreen for input.
Note: This application will not run on the Palm OS, Nokia OS, or Blackberry OS devices.