InvestCalc
Loan/Investment Calculator for the Pocket PC
Overview
Smart investors research different scenarios before making big purchases or large investments. There's numerous "web calculators" to help the investor calculate monthly payments on loans or future balances on their investments, but, wouldn't it be nice to have that same calculation capability in a mobile device?
InvestCalc gives you that same capability for the Pocket PC device!
If you're car buying or house shopping, InvestCalc can be an indispensable tool for estimating monthly payments on compounded simple interest loans. InvestCalc can also generate amortization tables so you can check how much of your monthly payment is going towards interest and the principal of your loan.
If you are trying to decide how much of your hard earnings to invest so you can retire early, InvestCalc can help predict future values of your investments based on annual interest rate, length of investment, and annual contributions. You can even graph your predicted investment growth to visually see your money growing exponentially!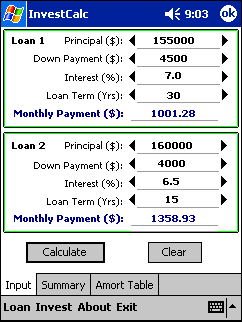 Version 1.3
Major Features
Can calculate and compare two loans at a time
Option to show total payment and total interest for each loan
Amortization tables can be generated for each loan, either displaying monthly or yearly values
Can calculate future values of two separate investments for comparison
Graphs can be made comparing the growth of the two investments
Left and right arrow buttons to allow quick changes to input values, and see calculated values get updated automatically
Written in Visual C for fast execution and compact file size
Compatible with the Pocket PC 2002, 2003, and Windows Mobile 5 OS
System Requirements
This application will install and run on the Microsoft 2002/2003 OS Pocket PCs and the Windows Mobile 5 and 6 OS devices. Requires a device that uses a stylus and touchscreen for input.
Note: This application will not run on the Palm OS, Nokia OS, or Blackberry OS devices.