Remove 22find virus: 22find.com removal in IE, Firefox and Chrome
This post covers a comprehensive description of the 22find adware application as well as DIY removal instructions that work wonders for fixing a hijacked PC.
Compared to straightforwardly malicious programs that steal user data or extort money from their victims, dubious apps like 22find act in a much milder fashion. The generic threat cluster that this entity represents is called adware or PUP, which stands for potentially unwanted program. While this doesn't sound too spooky, infections of this kind make a mess of primarily the web browsing side of one's computer usage.
The first thing that indicates the corrupt essence of 22find is the way it is installed on a PC: the respective file is typically part of other applications' setup packages. What is more, the payload is obscure, lurking behind the default installation where the user doesn't bother examining what's going to enter the system behind the scenes. The apps which are most often involved in such drive-by schemes are system players, file downloaders, browser toolbars or other in-demand digital products distributed on a free of charge basis. Therefore the "Default" or "Express (Recommended)" installation method is not much of an option as long as you want to stay safe when getting new software, freeware in particular.
This adware, when inside a target computer system, changes the web browsing preferences including the homepage, the new tab page and the default search provider. These settings become associated with 22find.com, the main landing site for the entire adware campaign in question. As a result, the prevailing part of your web traffic will be redistributed over to the said URL without appropriate consent on your end. As you can see from the above screenshot, it looks like some sort of a search engine, with links to third-party resources and ads in the form of graphical objects such as banners and icons. These are the items that allow the people behind 22find to gain profit, since advertising on the Internet is a heck of a business. In fact, all queries submitted from 22find.com take you to a different engine, which means the service is nothing but a mediator.
To turn the constant annoying browser redirects into history, it takes some specific steps covered in the removal part of this tutorial. It's important to follow the instructions precisely as they are provided.
22find removal with automatic cleanup tool
An optimal workflow for eliminating the 22find.com virus is to leverage a security application which will identify all potentially malicious software on your computer and handle it the right way. This approach ensures thoroughness of the removal and system remediation, and allows avoiding unintended damage that might occur as a result of manual malware deletion.
1. Download and install 22find removal software. Launch it and click the Start New Scan button. Wait for the application to check your computer for threats
2. When the app is done scanning your system, it will come up with an extensive list of detected objects. Click the Fix Threats option to have the utility completely remove this adware and affiliated infections found on your PC.
Uninstall troublemaking software through Control Panel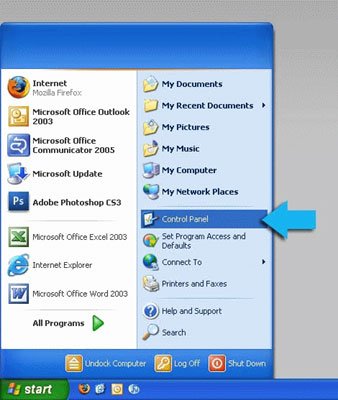 – Go to Start menu and select Control Panel on the list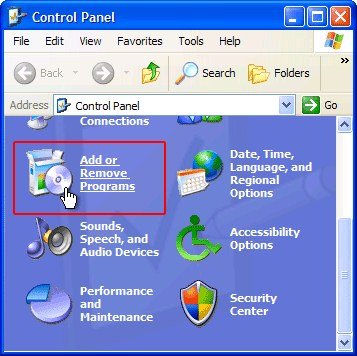 – Click on the Add or Remove Programs (Uninstall a program) button

– Study the software list displayed. Look for 22find proper or affiliated entries like CheckRun22find_uninstaller. When found, the probable culprit should be uninstalled

– Note that 22find may not be listed on Control Panel therefore it may be problematic to figure out which particular program is associated with the virus in your case. If you are unsure, stick to the automatic cleanup advice and / or try the browser reset option described below.
Remove 22find adware from compromised browsers
This part of the guide encompasses easy-to-follow steps required for terminating the activity of the adware under consideration on major web browsers it affects.
22find.com removal for MS Internet Explorer
– Go to Tools –> Manage add-ons

– When on the Manage add-ons interface, click Search Providers in its left-hand section and select a service that you would like to use as your preferred engine by right-clicking it and picking the Set as default option. Also, do not fail to eliminate 22find from this list by selecting Remove in the respective context menu

– Click Toolbars and Extensions on the same screen, spot 22find there and delete it through the same procedure as the one described in the previous step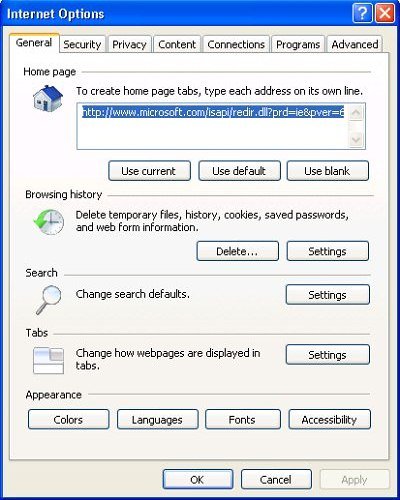 – In order to set the preferred IE homepage, select Internet Options under Tools, then proceed to the General tab and type in the desired address under Home page instead of 22find.com

– To get the altered IE launch settings back to what they should be, right-click on the respective shortcut, select Properties, click on the tab called Shortcut and delete the entire string beginning with http://www.22find.com/ from the field that says Target. Save the changes
22find.com removal for Mozilla Firefox
– Type about:config in the address bar and hit Enter
– When Firefox comes up with the warranty alert, read it and click the confirmation button as shown on the image below

– Type 22find in the Search field and press Enter. Doing so will return an entire list of Firefox preferences associated with this adware. Right-click on every one of these entries and select Reset from the menu each time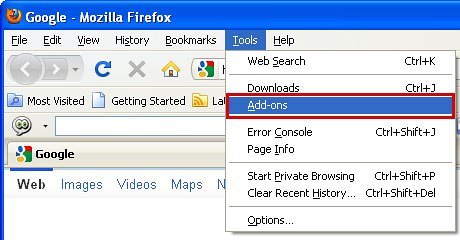 – Expand the Tools menu and proceed to Add-ons

– Go to Extensions, locate 22find on the list and hit the Remove button

– Firefox shortcut settings can be debugged by doing the following: right-click on it, pick Properties in the pop-under menu, hit the Shortcut tab, and erase http://www.22find.com/ along with all subsequent symbols if any. Save the changes made and exit
22find.com removal for Google Chrome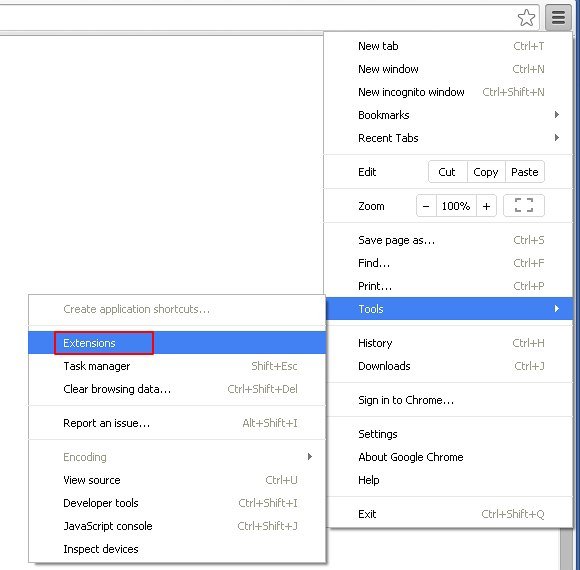 – Click on the Chrome menu icon, then select Tools –> Extensions


– Find the troublemaking add-on (22find) on the screen. When found, the unwanted item should be deleted by clicking on the trash bin next to it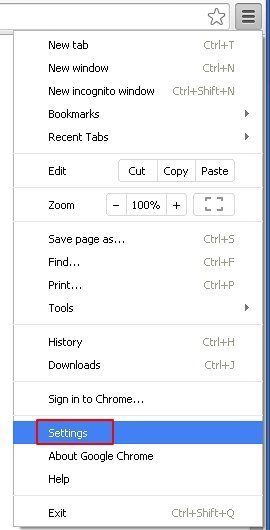 – Go back to the Chrome menu but now select Settings

– Go to On startup sub-section, select Open a specific page or set of pages radio button, and click Set pages

– Chrome will now come up with Startup pages interface, where you should locate 22find or 22Find Portal Site and remove it by clicking the X button as shown

– In the sub-section called Appearance, make sure Show Home button is checked, and click the Change option

– Under Home page, select Use the New Tab page

– Now go to the Search sub-section and click Manage search engines. Examine the list to find the object named 22find and click the X button to its right in order to eliminate it. Be sure to also choose the search engine to be used by default

– Making the Chrome shortcut settings right is doable in the following way: right-click on the shortcut and select Parameters. Proceed to the Shortcut tab (the middle one), find the Target field below, and delete http://www.22find.com/ from there. Be sure to save the changes before exiting
Double-checking never hurts
To make sure the 22find hijacker has been removed, consider running an additional security scan as a completion of the cleanup procedure