Remove Astromenda Search virus in Chrome, Mozilla Firefox and IE
All malicious characteristics of Astromenda Search adware as well as the procedure to remove this annoying computer threat are highlighted in this post.
Speaking of adware programs, the main implication has to do with Internet advertising through malicious means. These entities are designed to either redistribute web traffic from infected machines or straightforwardly embed sponsored items into the layout of sites being viewed on target computers. In either case, every phase underlying this outrageous activity is conducted without taking into account such thing as user authorization, which is precisely what makes these apps different from the regular browser helper objects in the first place.
The analysis of Astromenda Search add-on leaves no room for doubt that it is adware at its worst. The way it may have gotten into your PC is hard to state unambiguously as the fraudsters who run this campaign are utilizing diversified distributions tactics. Some people catch this pest from installing freeware that has the unsafe payload secretly integrated into the setup. Others get infected while visiting legitimate sites that got compromised or malign web pages created deliberately to spread the virus. Anyway, there is not much chance to notice something unwanted infiltrating your system and it's difficult to stay proactively safe from pests of this sort.
The image above is what the landing page for Astromenda Search looks like. By the way, it is very frequently visited on the affected computer because of the modifications the adware makes to the system. First off, a new extension called Astromenda New Tab is added to the web browsers used on the PC, whether it's Chrome, Firefox or Internet Explorer. Due to this add-on's activity, browser settings undergo substantial changes: the homepage, new tab page and default search engine become associated with http://astromenda.com. From that moment on and until the adware is removed, forget about setting your own preferences – the virus won't let you.
Astromenda Search indulges in monetizing thus acquired Internet traffic by showing numerous sponsored links to users. Whatever query you enter in its search box, you get up to 15 ads on every results page returned. Of course the bad guys are happy – they get profit out of this scheme. On the other hand, the affected users find themselves entangled due to inability to define browsing preferences. These unauthorized changes are not irreversible though. Astromenda Search can be removed through adopting a set of measures which are described below. This way you can both uninstall the persistent add-on and restore the normal settings for your browsers.
Astromenda Search removal with automatic cleanup tool
An optimal workflow for eliminating the Astromenda virus is to leverage a security application which will identify all potentially malicious software on your computer and handle it the right way. This approach ensures thoroughness of the removal and system remediation, and allows avoiding unintended damage that might occur as a result of manual malware deletion.
1. Download and install Astromenda Search removal software. Launch it and click the Start New Scan button. Wait for the application to check your computer for threats
2. When the app is done scanning your system, it will come up with an extensive list of detected objects. Click the Fix Threats option to have the utility completely remove this adware and affiliated infections found on your PC.
Uninstall troublemaking software through Control Panel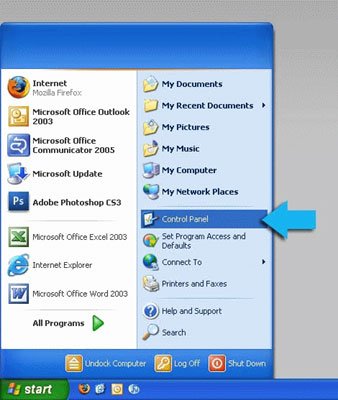 – Go to Start menu and select Control Panel on the list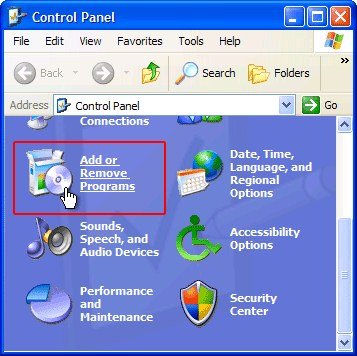 – Click on the Add or Remove Programs (Uninstall a program) button

– Take a good look at the software list displayed. Find Astromenda and click Change/Remove in order to uninstall it from your computer

Remove Astromenda Search virus from compromised browsers
This part of the guide encompasses easy-to-follow steps required for terminating the activity of the adware under consideration on major web browsers it affects.
Astromenda Search removal for MS Internet Explorer
– Go to Tools –> Manage add-ons

– When on the Manage add-ons interface, click Search Providers in its left-hand section and select a service that you would like to use as your preferred engine by right-clicking it and picking Set as default option. Also, do not fail to eliminate Astromenda from this list by clicking the Remove button

– Click Toolbars and Extensions item on the same screen, find Astromenda on there, highlight it and click the Disable button at the bottom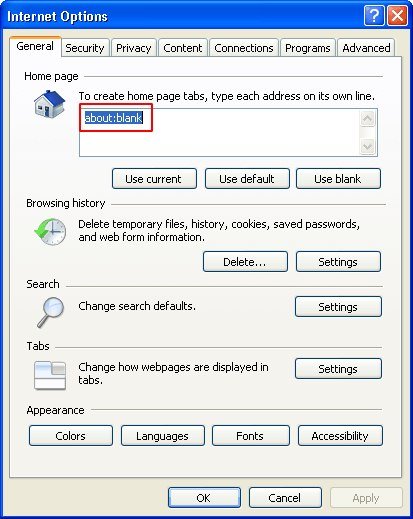 – In order to set the preferred IE homepage, select Internet Options under Tools, then proceed to the General tab and type in the desired address under Home page instead of astromenda.com

– Restart Internet Explorer
Astromenda Search removal for Mozilla Firefox

– Type about:config in the address bar and hit Enter


– When Firefox comes up with the warranty alert, read it and click the confirmation button as shown on the image below

– Type astromenda in the Search field and press Enter. Doing so will return en entire list of Firefox preferences associated with this adware. Right-click every one of these entries and select Reset from the menu each time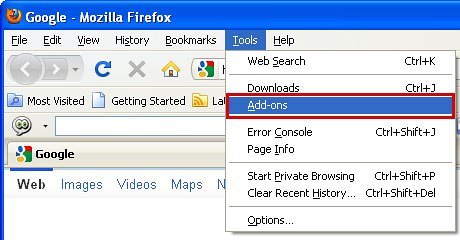 – Go to Tools and select Add-ons

– Proceed to Extensions and remove Astromenda New Tab from there

– Go to Manage Search Engines. Highlight Astromenda on the list and click the Remove button to eliminate it. Save the changes before exiting
– Restart Firefox
Astromenda Search removal for Google Chrome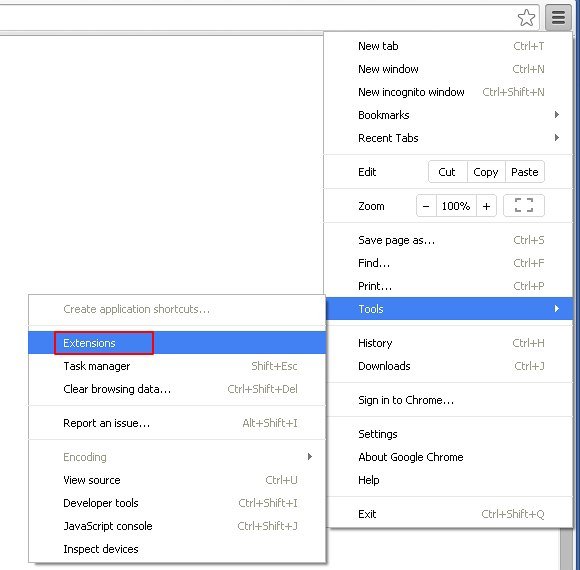 – Click on the Chrome menu icon, then select Tools –> Extensions

– Find Astromenda New Tab on the screen. When found, the unwanted object should be deleted by clicking on the trash bin next to it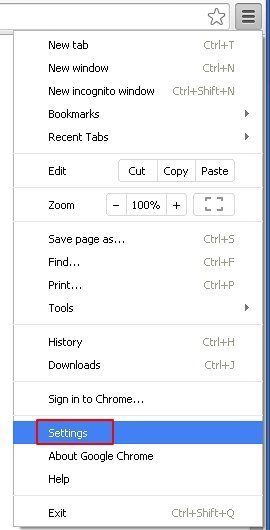 – Go back to the Chrome menu but now select Settings

– Go to On startup sub-section, select Open a specific page or set of pages radio button, and click Set pages

– Chrome will now come up with Startup pages interface, where you should locate Astromenda Search and remove it by clicking the X button as shown

– In the sub-section called Appearance, make sure Show Home button is checked, and click the Change option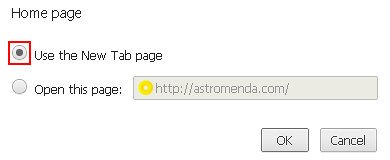 – Under Home page, select Use the New Tab page


– Go to the Search sub-section and click Manage search engines. Examine the list to find the object named Astromenda Search and click the X button to its right in order to eliminate it. Be sure to also choose the search engine to be used by default

– Restart Chrome
Double-checking never hurts
To make sure the Astromenda Search hijacker has been removed, consider running an additional security scan as a completion of the cleanup procedure