Remove High Stairs ads from Firefox, Chrome, Internet Explorer
If some ad on the Internet says it's brought by High Stairs, this denotes a security problem with the PC the site is visited form, hence a fix is mandatory.
One of the currently dominating adware families keeps producing copycat infections that only differ with their names as well as the design and wording of dedicated pages on the web. Sale Clipper, Jungle Net, Gem Grab, Glass Bottle are but a few of these pests that were active just recently. The latest clone is called High Stairs, and it symbolically promises users to help "climb to the top of the Net". In the meanwhile, the sad truth about it is the opposite – it's going to bring the customer down to earth by demonstrating how annoying and disruptive adware can get. This unwanted software performs its filthy objectives by integrating a malicious plugin into browsers. The stealthy code is intelligent enough to detect the browsers installed on the compromised system, making all of them obey to commands that the victim is unable to influence.
High Stairs adware, just like its fellow-infections, hardly ever installs on computers via the customary user approval path. Instead, it sticks to tactics that are similar to social engineering, which explains the significant success of payload delivery to many computers over a relatively short period of time. The main allies of pests like this are freeware utilities, because they often use installation clients, that is, tiny programs that are supposed to make the setup smooth and fast. The trick is that these clients can also pull other entities into one's computer, and this fact is hardly ever expressed in a clear way. The jDownloader applet, for example, is a well-known promoter of dubious browser add-ons that cause people quite a bit of trouble.
The algorithm of High Stairs' activity after it gets into a machine is simple: it creates several registry entries and adds a new browser component to Chrome, Firefox and IE, which automatically embeds unwelcome content into web pages. The user starts bumping into "related search" results, product recommendations, popups, transitional ads and comparison shopping brought by High Stairs. As it has been mentioned, this adware reaches further than browser settings only, rendering the cleanup more complex than the standard uninstalling of the extension. The unapproved registry changes make the bad software keep coming back after the usual removal attempts have been made. Troubleshooting in this case should comply with well-tested adware elimination techniques.
High Stairs removal with automatic cleanup tool
An optimal workflow for eliminating the High Stairs adware is to leverage a security application which will identify all potentially malicious software on your computer and handle it the right way. This approach ensures thoroughness of the removal and system remediation, and allows avoiding unintended damage that might occur as a result of manual malware deletion.
1. Download and install High Stairs removal software. Launch it and click the Start New Scan button. Wait for the application to check your computer for threats
[button size="large" type="success" value="Download Ads by High Stairs remover" href="http://scarybear.paretologic.revenuewire.net/pcha/download/?higstairs"]
2. When the app is done scanning your system, it will come up with an extensive list of detected objects. Click the Fix Threats option to have the utility completely remove this adware and affiliated infections found on your PC.
Uninstall troublemaking software through Control Panel
– Go to Start menu and select Control Panel on the list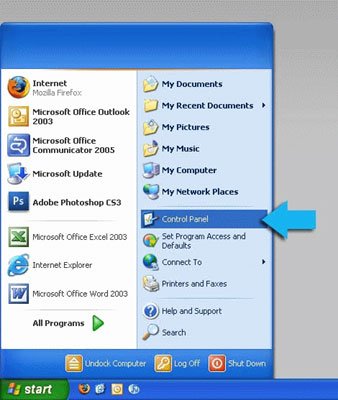 – Click on the Uninstall a program (Add or Remove Programs) button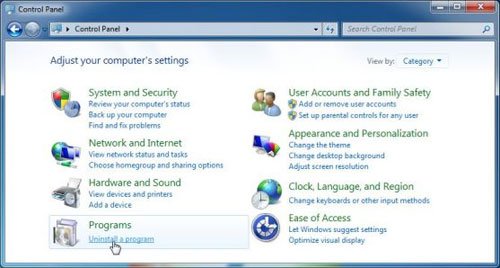 – Take a good look at the software list displayed. Search for High Stairs or other questionable items that look like they are ecommerce-related. When found, the culprit should be uninstalled

– Be advised High Stairs should but may not necessarily be listed anywhere on Control Panel therefore it may be problematic to figure out which particular program is associated with the virus in your case. If you are unsure, stick to the automatic cleanup advice or try the browser reset option described below.
 
Get rid of High Stairs Ads by resetting the affected browser
FYI: This procedure will lead to the loss of custom browser settings, including bookmarks, cookies, passwords saved, and all browsing history. Also, some components of the virus may be beyond the browsers proper. Please keep this in mind when making a decision to proceed.
Reset Internet Explorer to its defaults
– Go to Tools –> Internet Options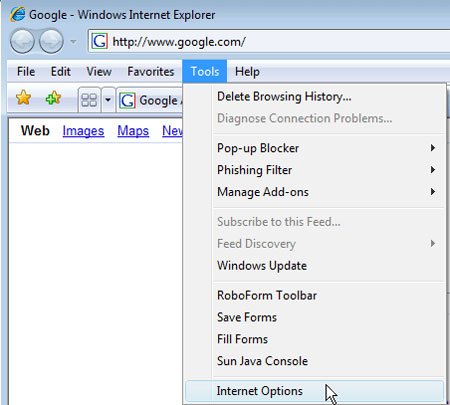 – Select the Advanced tab as shown below and click the Reset button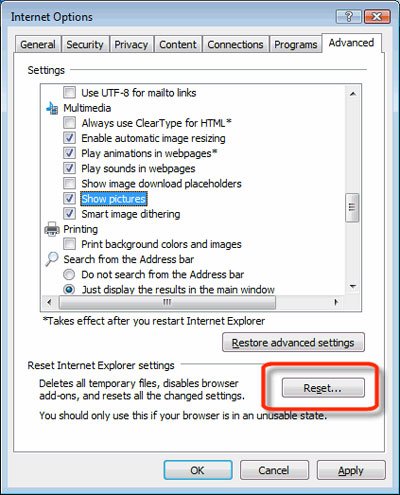 – Read the warning about the effects of resetting IE. If you are sure, proceed by checking the Delete personal settings option and clicking Reset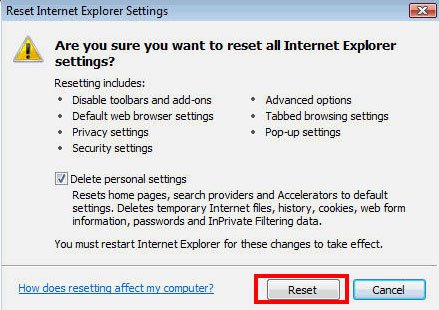 Reset Mozilla Firefox
– Go to Help –> Troubleshooting Information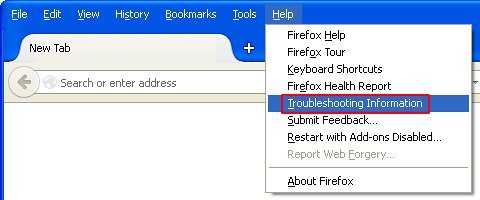 – Firefox will come up with the Troubleshooting Information screen. Click the Refresh Firefox button to complete the process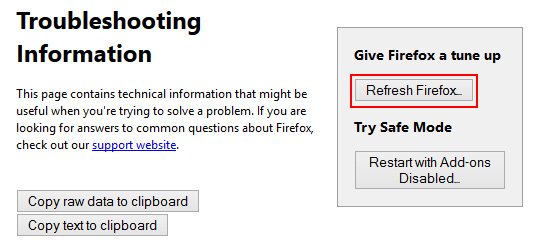 Reset Google Chrome
– Go to the Chrome Menu icon and pick Settings on the list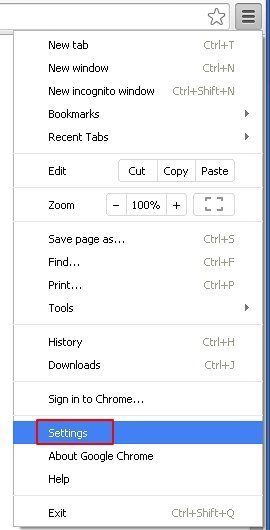 – Click on the Show advanced settings button

– Click on the button reading Reset browser settings


– On the notification box that pops up, review the consequences of Chrome reset and click Reset if it's ok with you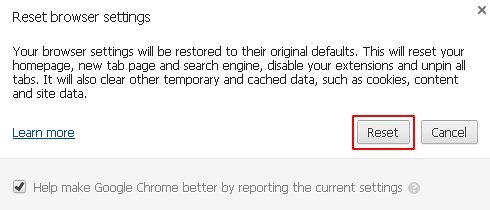 Double-checking never hurts
To make sure the High Stairs adware has been removed, consider running an additional security scan as a completion of the cleanup procedure.
[button size="large" type="success" value="Download and install High Stairs removal software" href="http://scarybear.paretologic.revenuewire.net/pcha/download/?higstairs"]