Remove rover.ebay.com redirects and popups in Chrome, Firefox, IE
Get a flawless fix for the rover.ebay.com browser problem which results in annoying redirects, warning messages and the tracking of one's online activity.
The scripts sustaining the analytics for affiliate marketing are generally supposed to be concealed from the end user's eye. Regardless of the platform's name and type, this business inherently relies on a complex and branchy framework of landing pages, custom links and tracking instruments that potential buyers shouldn't necessarily bother knowing about. Whenever this purely technical arsenal of tools surfaces and becomes the tip of the iceberg for some reason, these circumstances are rightfully perceived as an anomaly. This is exactly what's going on regarding rover.ebay.com, a domain name which is part of the eBay Affiliate Program. Legitimacy of the latter not being questioned in any way, their global tracking update a few years ago has obviously called forth a spike in negative client feedback which has been lasting up till now.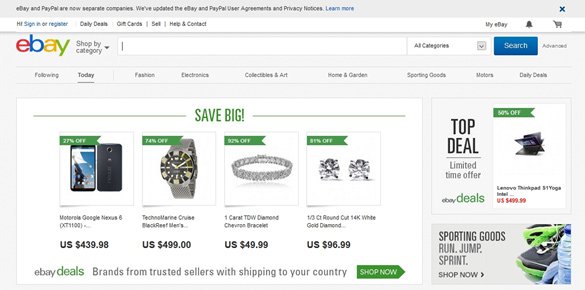 In theory, the so-called "Project Rover" was intended to enhance eBay's HTML tracking procedures by reducing the quantity of redirect steps followed by customers during affiliate transactions. The issues that the affected users have been confronting, though, are random diverts of their browsers to rover.ebay.com as well as recurrent alerts that pop up as they are surfing the web. For instance, some people keep getting security popup messages saying that their browser cannot verify the site. By the way, many of these alerts reportedly occur when users are logged in to their Yahoo! Mail account. A lot of the victims get blatantly redirected to the web page under consideration once they click on any of the search results entries returned by legitimate engines. These encounters are typically also accompanied by an increased volume of advertising displayed on social networks and ecommerce websites. Overall, all of these adverse events are reminiscent of user tracking in its most aggressive form.
The rover.ebay.com problem might indicate ubiquitous monitoring of the market by the respective company or the abuse of the affiliate network by some light-fingered merchants who circumvent regulations while seeking easy shortcuts to get rich. As per targeted malware analysis, simply clearing browser cache and removing cookies won't suffice for the issue to go away. Instead, it's more of a security procedure that is required for getting things back to their normal state.
Rover.ebay.com removal with automatic cleanup tool
An optimal workflow for eliminating the rover.ebay.com adware is to leverage a security application which will identify all potentially malicious software on your computer and handle it the right way. This approach ensures thoroughness of the removal and system remediation, and allows avoiding unintended damage that might occur as a result of manual malware deletion.
1. Download and install rover.ebay.com removal software. Launch it and click the Start New Scan button. Wait for the application to check your computer for threats
2. When the app is done scanning your system, it will come up with an extensive list of detected objects. Click the Fix Threats option to have the utility completely remove this adware and affiliated infections found on your PC.
Uninstall troublemaking software through Control Panel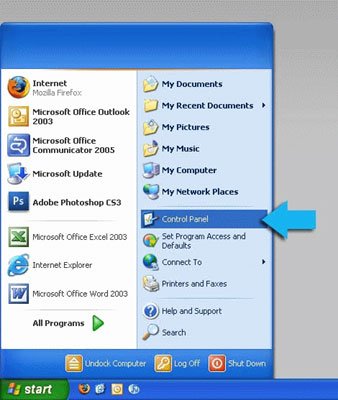 – Go to Start menu and select Control Panel on the list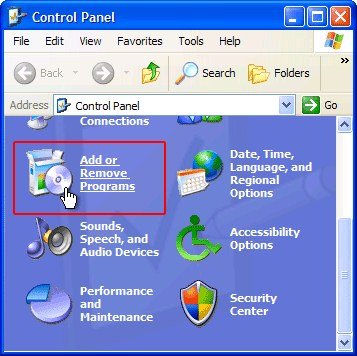 – Click on the Add or Remove Programs (Uninstall a program) button

– Take a good look at the software list displayed. Search for suspicious entries that shouldn't be there. When found, the culprit should be uninstalled

– Be advised rover.ebay.com should but may not necessarily be listed anywhere on Control Panel therefore it may be problematic to figure out which particular program is associated with the virus in your case. If you are unsure, stick to the automatic cleanup advice or try the browser reset option described below.
Get rid of rover.ebay.com adware by resetting the affected browser
FYI: This procedure will lead to the loss of custom browser settings, including bookmarks, cookies, passwords saved, and all browsing history. Also, some components of the virus may be beyond the browsers proper. Please keep this in mind when making a decision to proceed.
Reset Internet Explorer to its defaults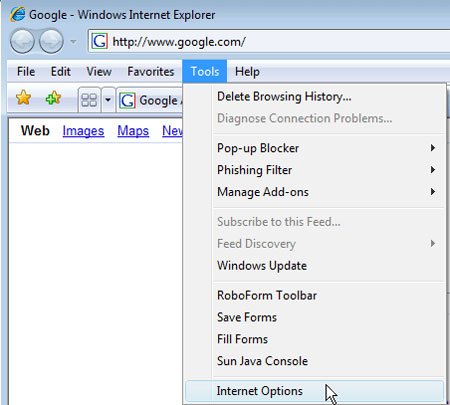 – Go to Tools –> Internet Options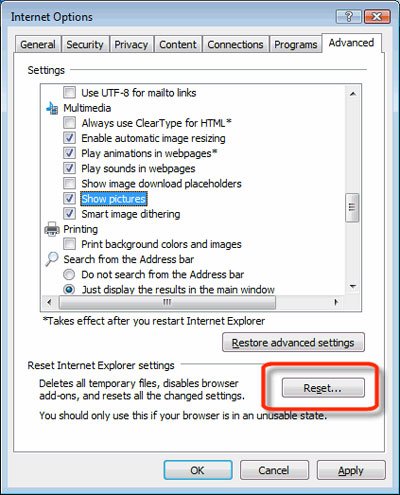 – Select the Advanced tab as shown below and click the Reset button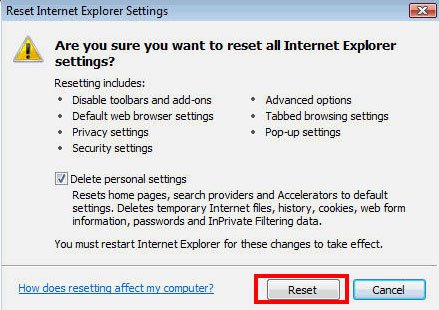 – Read the warning about the effects of resetting IE. If you are sure, proceed by checking the Delete personal settings option and clicking Reset

Reset Mozilla Firefox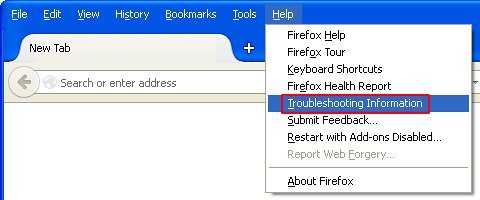 – Go to Help –> Troubleshooting Information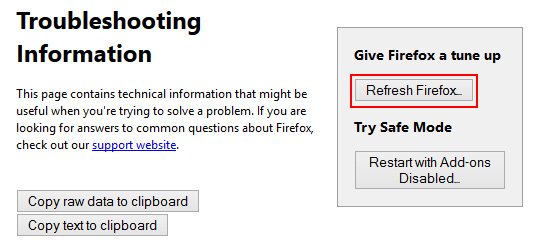 – Firefox will come up with the Troubleshooting Information screen. Click the Refresh Firefox button to complete the process

Reset Google Chrome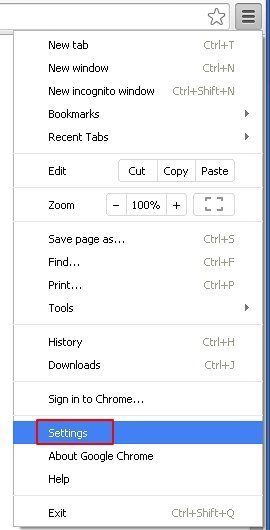 – Go to the Chrome Menu icon and pick Settings on the list

– Click on the Show advanced settings button


– Click on the button reading Reset browser settings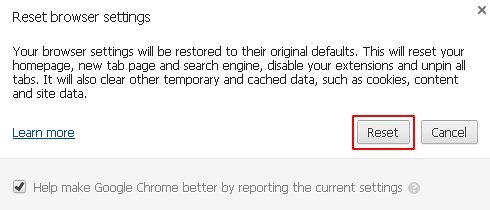 – On the notification box that pops up, review the consequences of Chrome reset and click Reset if it's ok with you

Double-checking never hurts
To make sure rover.ebay.com adware has been removed, consider running an additional security scan as a completion of the cleanup procedure.