Remove WBredirect.com malware in Chrome, Firefox and IE
The hijacker called WBredirect.com stirs up trouble with its victims' web browsing, so it needs to be urgently removed for the sake of system stability.
Marketing on the Internet isn't an easy-to-implement process. It requires tons of effort, time and resources so that customers get to know about offers that may interest them. Legal businesses go this tough route and get rewarded if the investment has been well planned and appropriately distributed. In the meantime, some companies prefer shortcuts in reaching their goals rather than well-trodden lengthy tactics. They don't do any search engine optimization and market research, and they do not participate in paid keyword campaigns whatsoever. WBredirect.com is an example of online advertising fraud that skips the entire elaborate part and forces users to view specific content against their will.
WBredirect.com adware is stealthily shipped with applications that don't usually arouse reasonable suspicion themselves. For the most part, these are hardware drivers, desktop enhancement tools, browser toolbars, file downloaders, media players and software updates of questionable origin. In fact, it's not these apps that cause trouble – it's the installation wizards they go with. It is as simple as ABC to include arbitrary payloads into these setups in the form of featured offers or some extras that accompany the main program by default and need to be manually deselected for opting out. Things like Terms of Service and License Agreements can conceal a lot of malevolent details that no one ever reads. Due to this, viruses are often attached to otherwise harmless solutions and get a powerful promotional boost thereby.
This sort of permeation is what WBredirect.com malware uses. Its onset inside a PC is a turning point followed by the harsh disruption of browsers' functioning. The users start to repeatedly run into occurrences where traffic redirects are triggered off and on. What's interesting is WBredirect.com can return different landing pages under the same title of WebBrowser. Some of these are for massively multiplayer online role-playing games, and some for dubious e-commerce hubs like Alibaba. The redirecting occurs sporadically or may be called forth by the user's opening new tabs. It's also likely that the pages might pop up as transitional ads or interstitials. Sooner than later, the victim definitely gets sick and tired of having to close those redundant browser windows all the time. To that end, the whole cleaning job that needs to be done includes scanning the system with dependable antimalware as well as restoring the Internet surfing defaults.
WBredirect.com removal with automatic cleanup tool
An optimal workflow for eliminating the WBredirect.com adware is to leverage a security application which will identify all potentially malicious software on your computer and handle it the right way. This approach ensures thoroughness of the removal and system remediation, and allows avoiding unintended damage that might occur as a result of manual malware deletion.
1. Download and install WBredirect removal software. Launch it and click the Start New Scan button. Wait for the application to check your computer for threats
2. When the app is done scanning your system, it will come up with an extensive list of detected objects. Click the Fix Threats option to have the utility completely remove this adware and affiliated infections found on your PC.
Uninstall troublemaking software through Control Panel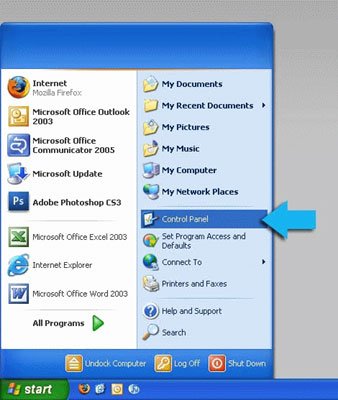 – Go to Start menu and select Control Panel on the list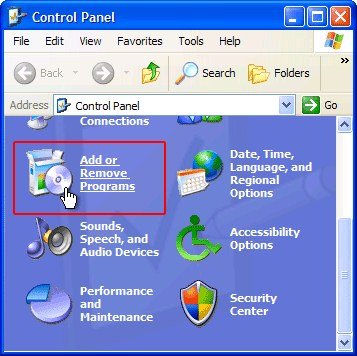 – Click on the Add or Remove Programs (Uninstall a program) button

– Take a good look at the software list displayed. Search for WBredirect or other questionable items that look like they are ecommerce-related. When found, the culprit should be uninstalled

– Be advised WBredirect should but may not necessarily be listed anywhere on Control Panel therefore it may be problematic to figure out which particular program is associated with the virus in your case. If you are unsure, stick to the automatic cleanup advice or try the browser reset option described below.
Get rid of WBredirect.com adware by resetting the affected browser
FYI: This procedure will lead to the loss of custom browser settings, including bookmarks, cookies, passwords saved, and all browsing history. Also, some components of the virus may be beyond the browsers proper. Please keep this in mind when making a decision to proceed.
Reset Internet Explorer to its defaults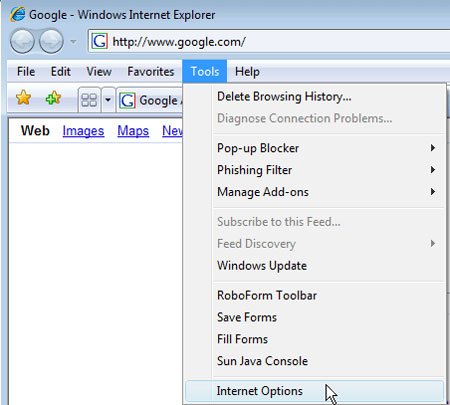 – Go to Tools –> Internet Options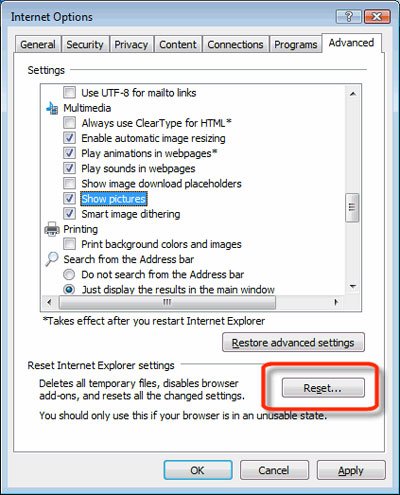 – Select the Advanced tab as shown below and click the Reset button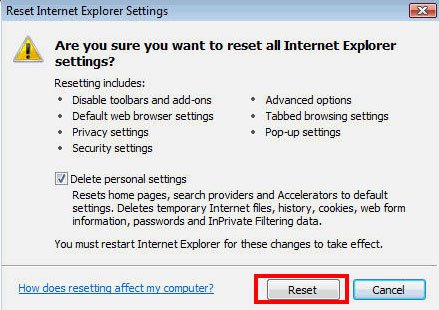 – Read the warning about the effects of resetting IE. If you are sure, proceed by checking the Delete personal settings option and clicking Reset

Reset Mozilla Firefox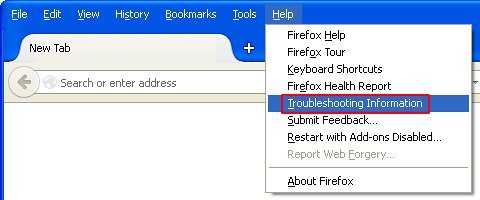 – Go to Help –> Troubleshooting Information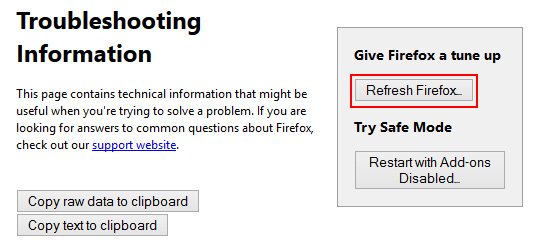 – Firefox will come up with the Troubleshooting Information screen. Click the Refresh Firefox button to complete the process

Reset Google Chrome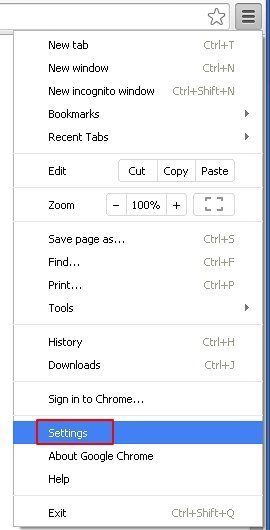 – Go to the Chrome Menu icon and pick Settings on the list

– Click on the Show advanced settings button


– Click on the button reading Reset browser settings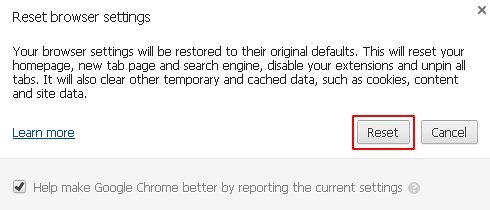 – On the notification box that pops up, review the consequences of Chrome reset and click Reset if it's ok with you

Double-checking never hurts
To make sure the WBredirect.com virus has been removed, consider running an additional security scan as a completion of the cleanup procedure.